FIt was in March 1983 when I entered the amusement industry, the day I joined Sigma, Inc. as a new graduate.

Since then, I have been involved in gaming and casino related businesses for almost 40 years.

In those days, Sigma tackled the following four businesses.

"Management of game centers", "Development of token in/token out gaming machines (for domestic game centers)"
"Development of gaming devices for casinos" and "Casino operation and management in Las Vegas".


 Especially in Japan, as a company that created and nurtured the genre of token games in arcades, it established a position as a leader in the fields of token gaming machine development and management.
Within the company, there was a serious discussion about how to operate the token games indefinitely and what kind of gaming machine is needed for that purpose, while the firm philosophy of the founder, President Katsuki Manabe was in the center of it, I reckon.



Even now, since I founded Fluke and became a business owner, the basis of my work is Sigma's philosophy and 'Manabe-ism' that strictly taught me when I was young,

After that, Nippon System Co., Ltd., a trading company that served as an overseas contact point for major Japanese game manufacturers, gave me an opportunity to connect with many overseas customers.



President Eiji Murakami, who was the top salesman in the game industry, taught me the fundamentals of business, while being working with him, I could have an invaluable experience, such as searching for the buyer and products myself, which is completely different from the manufacturer's typical routine sales.

Unfortunately, Nippon System was dissolved, but we founded 'Fluke' company in the form of succeeding all the businesses of the company.


My wish is to provide the fun game machines that will entertain everyone involved in gaming and casinos around the world, and to help create a comfortable store environment where people can enjoy them.

It would be most grateful if I can, with my experience, return a favor to the industry that has nurtured us.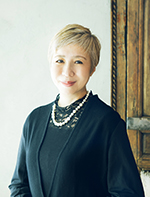 Fluke,Inc.
 Shoko Takakura
President and CEO
在下踏入遊戲機行業的契機始於1983年3月,作為畢業新生加入Sigma,Inc.。 自始作為遊戲機及CASINO從業員度過了近四十個春秋。

我的心願是,向世界各地與遊戲機和CASINO相關的所有人,提供有趣的遊戲機產品,以及創造匹配舒適的店鋪環境。

我以感恩之心,把自己業界多年積累的經驗與知識,貢獻回饋到這個培育過我的行業中。


在下踏入游戏机行业的契机始於1983年3月,作为毕业新生加入Sigma,Inc.。
自始作为游戏机及CASINO从业员度过了近四十个春秋。

我的心愿是,向世界各地与游戏机和CASINO相关的所有人,提供有趣的游戏机产品,以及创造匹配舒适的店铺环境。

我以感恩之心,把自己业界多年积累的经验与知识,贡献回馈到这个培育过我的行业中。
株式会社Fluke
代表取締役社長 髙倉章子